So you've been hearing about the
2017 HR Technology Conference West Africa
and how it's the most unique meeting of HR and Tech Minds in Africa, where we would get to listen to internationally acclaimed speakers from the global HR and Tech space, who along with attendees will be helping Chart the Course for Efficient HR Practice in West Africa.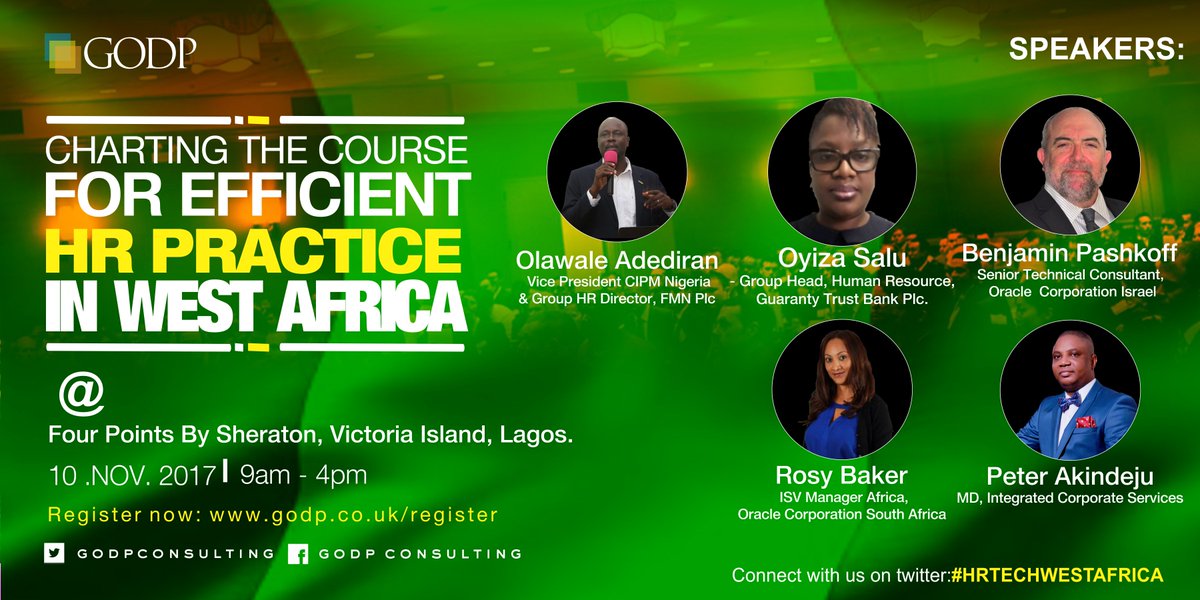 Now that we've recapped all that serious info, let's talk on a lighter note; here are five fun facts about the #HRTECHWestAfrica Conference. Remember, it's not to be missed.
1. Come Hear Word:
#HRTECHWestAfrica comes packed with loaded sessions from key players in the HR and Tech space worldwide.
2. Yarn Your Own:
With panel discussions, Interactive Q&A and other audience participatory sessions, #HRTECHWestAfrica provides an avenue for attendees to enquire and express their ideas.
3. Meet Somebori:
At #HRTECHWestAfrica, you'll network with peers and rub minds with contemporaries from both HR and Tech industries.
4. Sell Yourself:
Exhibition opportunities are available at #HRTECHWestAfrica for innovators to showcase new solutions and budding initiatives.
5. Something Light:
An intellectually stimulating ambience awaits participants at #HRTECHWestAfrica, with light refreshments to kindle networking.
So what are you waiting for? Register Now at
www.godp.co.uk/register
and be a part of this amazing experience.
I'll be expecting you!